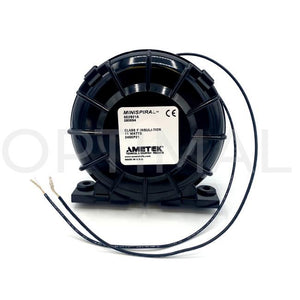 Product may differ slightly from picture.
Ametek Rotron Minispiral Blower SL2P90 036018 .5 HP, ODP-CS, 380/460-3-50/60
Not in Stock, but Available for Order.
---
---
PRODUCT DETAILS
Ametek Dynamic Fluid Systems (DFS) Rotron Spiral (Simplex/Duplex) Regenerative Blowers are compact, efficient, and quiet regenerative blower solutions that provide 20,000 to 25,000 hours of working life. These blowers are manufactured with diecast aluminum housings, endbells, and impellers. The covers are made of aluminum sheet metal. The amp draw is low and the bearings are permanently sealed. For questions please contact us!
| Product Type | Specification |
| --- | --- |
| Frame Size | 9.96 |
| Volt | 380-460 |
| AC/DC | AC 3Φ |
| Fan Stages | 1 |
| Output | Minispiral |
| Replacement Brush Kit | Brushless |
| Motor Type | Regen |
| Speed Control | TBD |
| Flow Class | TBD |
| Power Level | 0.5 HP |
| Comments | E - Specialty Products (Minispiral, Simplex/Duplex, .5 HP, ODP-CS, 380/460-3-50/60, Minispiral |
| Alt Parts # | SL2P90 |
---
We Also Recommend