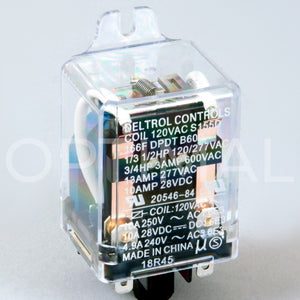 Product may differ slightly from picture.
DISCONTINUED - 20546-84 Deltrol Relay 166F 120VAC 13A Side Flange
Not in Stock, but Available for Order.
---
Free ground shipping and free LTL truck freight is available for most online orders of $100 or more in the continental U.S.
In-stock small-package items ship same day, 4:30 pm EST cut-off. In-stock items that ship LTL can also ship same day, 2:30 pm EST cut-off. Please call us immediately to schedule these shipments. We can expedite some shipments for next-day and possibly SAME-DAY delivery, for domestic orders.
Out of stock items typically ship within 4-6 weeks.
Please contact us for quantity-based discounts.
---
PRODUCT DETAILS
This product is no longer available.
Part # 
20546-84
Series
160
Contact Type
DPDT
Coil Voltage
120 VAC
Current Rating
13A
Mounting
Side Flange
Termination Style
Quick connect .187 in
Model
166F
Deltrol's 160 series relay is a general purpose plug-in model. The relays in this series have a class F coil insulation system for 155 degree Celsius total temperature. Deltrol 160 series relays have coils molded with RYNITE, which is environmentally-friendly and RoHS compliant. The unique armature stop on these relays maintains adjustment and fine-wire gauge coils are skeined for integrity. This series has 3 contact configurations. Some applications for the relays in this series include: Industrial Machine Control; Energy Management Systems; and Control Panels.
---
We Also Recommend