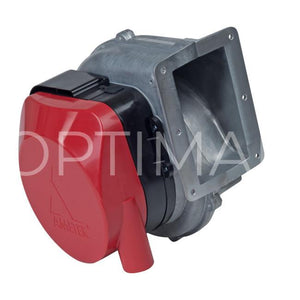 Product may differ slightly from picture.
151402-01P Ametek Nautilair Brushless Blower 12.3" 240 VAC PWM, Enhanced
Not in Stock, but Available for Order.
---
---
PRODUCT DETAILS
The new Ametek Nautilair Enhanced 12.3" High Energy brushless blower has more power, less noise, and greater efficiency. This Nautilair blower is equipped with eight backward curved fins rather than the normal twenty straight fins, along with an impact resistant plastic enclosure. These subtle changes not only increase motor performance without compromising motor cooling, but also provide substantial noise reduction (up to 14dB less sound). The new impact resistant plastic enclosure comes with a new exhaust tube which eliminates any re-circulation of motor cooling air, while providing customers the option for ducting the air out.
For more details about this product, visit our blog post here (click).
| Product Type | Specification |
| --- | --- |
| Frame Size | 12.3 |
| Volt | 380-575 |
| AC/DC | AC 3Φ |
| Fan Stages | 1 |
| Output | Tangential |
| Replacement Brush Kit | Brushless |
| Motor Type | Nautilair - BLDC |
| Speed Control | PWM |
| Flow Class | High Energy |
| Power Level | High Energy |
| Comments | Same as -01 except sound reduction cover/fan, Pulled Up. Same as -00 except large flange., None |
| Alt Parts # | N/A |
---
We Also Recommend