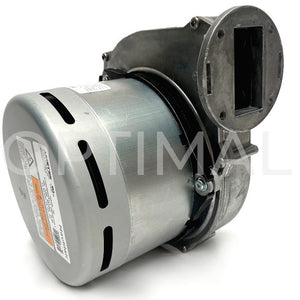 Product may differ slightly from picture.
150145-20 Ametek Nautilair Brushless Blower 7.6" 100-240VAC 229CFM 42 in.H2O Elec CL
PRODUCT DETAILS
| | |
| --- | --- |
| Model | Nautilair (7.6"/193mm) |
| Output | - |
| Voltage | 100 - 240 VAC |
| Speed Control | 0 - 10 VDC |
| Speed Regulation | Closed Loop |
| Option Card | No |
| Stages | 1 |
| Flow Classification | High Output |
| Discharge Size | 2.80" Bolt Circle |
| Performance Class | High Output |
| Electrical Connections | 5-Cavity Connector on Flying Leads with Two Power, Two 0 - 12 VDC Command Signal Leads and One Ground/Earth Lead |
| Skid Qty | 60 |
| Max Pressure  | 42 IWG |
| Max Flow  | 230 SCFM |
If we're out of stock on this part, consider using the 150145-50 which is the same part but does not have stainless-steel shaft, option card, or silicone protected board.
Ametek DFS Nautilair brushless DC variable speed blowers have been engineered to provide practical, compact, and efficient combustion solutions, and their performance levels have tested higher than many competitor blowers of the same size. Nautilair blowers are designed to deliver a precise, measured level of air and fuel mixtures in gas-fired burner systems and come in three size options: (a) 7.6" / 193 mm; (b) 8.9" / 226 mm; and (c) 12.3" / 312 mm. All Nautilair blowers are programmable for various speed control profiles and allow for three primary speed signals: 0-10VDC electrical analog; pulse width modulation (PWM); and mechanical potentiometer (directly on the blower unit). The Ametek Nautilair brushless DC combustion blower motors are used in a variety of applications, including residential and commercial heaters and boilers, food service equipment such as ovens, and even fuel cells, among many others.
The Ametek Nautilair 7.6" brushless blower model / part number 150145-20 can be use in a wide variety of applications, but we have frequently sold this blower for air sampling and purification applications, along with applications related to food service ovens and related equipment (e.g., Lawrence Equipment). This blower provides a great option for new OEMs because of its universal drive, dual-voltage feature and all stainless-steel components in its working fan system. This part is RoHS compliant.
If you need additional resources (performance curve data, cad drawings, etc.), please contact us.
See Ametek DFS's full catalog of Nautilair brushless blowers available here (click).